The following post is brought to you by . Our partners are hand-picked by the Comprovendoauto team because they represent the best in design.
has been a pioneering force in the design world for over four decades, during which time it has reshaped the idea of what a design store can be. More than a furniture store, Luminaire is a resource focused on creating environments that affect people's lives through design education and philanthropy. The company has been sponsoring and producing spectacular curated exhibitions and an exceptional series of lectures since 1979. Featured speakers have included design luminaries such as Marcel Wanders, Antonio Citterio, Piero Lissoni, Giulio Capellini, Philippe Starck, Richard Sapper, Ron Arad, Amanda Levete, the Bouroullec brothers, Ingo Maurer, Konstantin Grcic, Massimo and Lela Vignelli, Patricia Urquiola, Naoto Fukasawa, and Michael Anastassiades among others.
During Maison & Objet Americas, will welcome founder of Vancouver-based Omer Arbel Office and Creative Director of Bocci, for a . This exclusive event will celebrate the US debut of Bocci's most recent lighting collection—the , a handcrafted exploration of fabric and glass.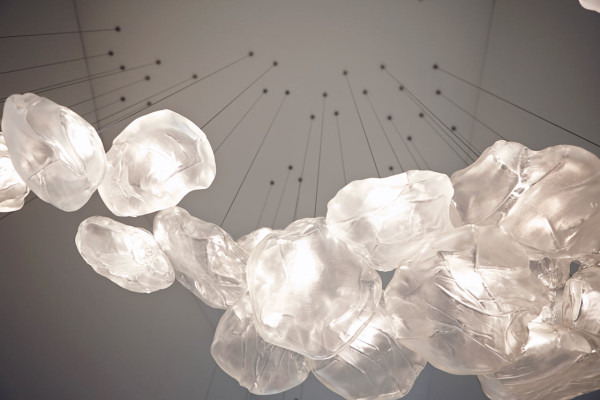 The 73 series, which was unveiled at Maison et Object in Paris earlier this year, has a unique and interesting process in which glass is blown into heat-resistant ceramic fabric. The fabric is first sewn into a loose vessel and then the glass is blown inside it, thus taking the form and texture of the vessel's interior. Its final form is created with forced air pressure. Because this process is handmade, each 73 light is completely unique in proportion, size and shape.
"For us it's never been about lighting specifically, though we have been involved in lighting. Our mission is about evoking some sort of intangible ethereal quality… An ambient condition… A sense of unreality… Some allusion to the romantic ideal of the sublime…" -Omer Arbel, Bocci
Mr. Arbel, as Bocci's Creative Director, will share his insight and design philosophy, touching on lighting innovation and process at the Luminaire Designlives event. Trained as an architect, he will speak about his experience working on this new series and bring his unique design perspective to light (so to speak!). This is definitely one you won't want to miss.
will be held on May 12th from 6-9PM at Luminaire Lab in the Miami Design District. You can join the conversation with on Twitter and on using hashtag #DesignLives.
Design From Around The Web