Last week, I attended the first ever in Santa Monica at the Barker Hangar, a really cool raw space next to the Santa Monica airport. It was a very open plan with high ceilings and lots of natural light—unlike most other trade shows, it was nice to feel a breeze and photograph furniture in sunlight. Literally, you could be sitting outside watching a plane drive by. So cool!
This show was really great with a lot of nice energy. It was a good mix of younger independent designers like  and and big names like . was there to represent the affordable, hip design crowd while brands like appealed to super high-end buyers. Plus, the opening party was a blast.
Anyway, here are my favorites from the show, which I'm told will be bigger and better next year, so mark your calendars now.
This by Brenda Houston and  has reignited my obsession with wall murals. Also, check out those awesome Welles lamps.
Now that I've had a chance to lay on it, the Ligne Roset chaise lounge is my new favorite seat.
This "fishtail" tufted ottoman from with brass legs hits the spot.
amazingly beautiful and lightweight lighting and sculptures look perfect paired with Calico Wallpaper.
This gorgeous handmade cabinet from was just amazing right down to the handmade door handles and hinges.
flat showerheads had me looking at all angles to try and figure out how water comes out of it! I think it's around 3mm thick!
booth was my favorite and they had all brand new lighting to show, including these Palermo sconces, which were my favorite:
has an amazing collaboration with architect that included this oven that looked like a bedroom wardrobe and a freestanding cooktop (wires run inside the legs). These pieces were absolutely stunning in person.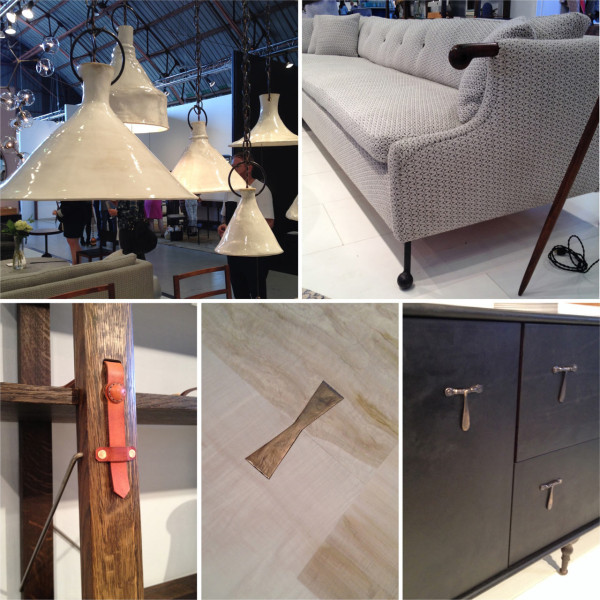 The design is truly in the details at BDDW from the beautiful made-in-the USA sofa fabric to the specially-shaped arms and legs, the bookshelf leather details, and metal table inlay.
A+R showed these new pieces by  and the are definitely my favorite.
Also, I moderated a great panel about Original Design sponsored by and . Panel members included Antoine Roset of , Gregg Buchbinder of and Irwin Miller of . It sparked a very interesting conversation that carried on into the after-party that night about responsibility, values and authenticity.
Design From Around The Web